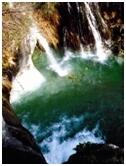 Le Pont du Loup - les Gorges du Loup
Historic site and monument,
Historic patrimony,
Historic district
in Tourrettes-sur-Loup
The Pont du Loup used to be a fashionable country resort at the end of the 19th century.Queen Victoria used to come regularly by train thanks to the Provence Railways line.

The impressive arches spanning the river were blown up by the German troops in 1944. The ruins of the railway can still be seen.
To be seen: the sweet factory , the site of le Loup and the waterfalls.