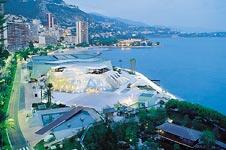 Grimaldi Forum Monaco
Cultural leisure activities,
Entertainment,
Show venue
in Monaco
Grimaldi Forum is an apt description for this venue that is ideal for all types of events. A state-of-the-art conference centre for the 3rd millennium, the Grimaldi Forum Monaco is extremely versatile.

Leading-edge technology is available for all events, making each space fully modular (retractable tiered seating, flexible room sizes).
Capacity

Surface area :

33 192 34 29 95 53 73 29 29 190 93 191 59 131 59 69 52 94 46 47 123 65 89 99 35 131 58 125 800 47 63 130 71 3970 4180 63 60 58 105 m2

Pitches :

27 200 30 25 102 56 64 28 28 204 64 220 56 144 66 50 48 102 49 49 132 65 88 100 35 122 81 130 802 34 65 132 72 402 3000 3500 60 1850 70 56 116 Person(s)

Spoken languages
Accessibility

Accessible for self-propelled wheelchairs

Equipment

Sound engineering
Video projector
Paper board

Screen
Wifi in room
Air conditioning